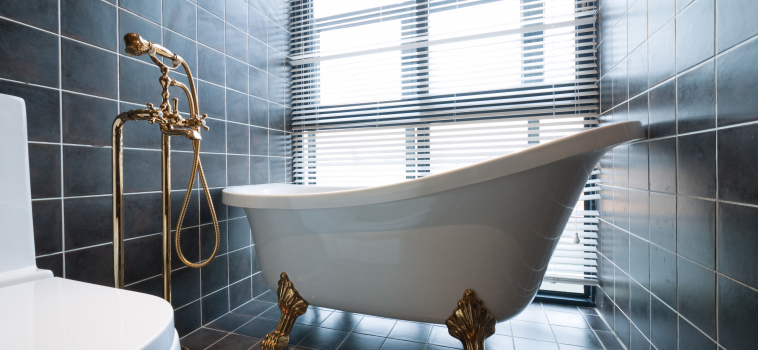 Whether renovating your kitchen or designing a new bathroom, tile is always a great option: in general, it's durable, practical, and easy to clean. But selecting the right kind of tile flooring can be tricky, if you're not familiar with what's available. Choice of material can have a big impact on the feel of your space and installations can be difficult, so it's important to be aware of these factors. Here we're going to break down some of the possibilities available for tile flooring.
Ceramic Tile
Ceramic is a classic choice when choosing flooring for bathrooms or kitchens. Although the installation can be labor intensive, repairing damaged tiles is a simple matter. Remember that glazed tiles are resistant and hardy, but unglazed tiles can be susceptible to water damage. Ceramics also give your room a feel of warmth. They're great in the summer, but remember to throw a rug over them during the winter!
Porcelain Tile
Porcelain is the modern alternative to ceramics. The two materials are very similar, except that porcelain is fired at higher temperatures, making it more durable. Porcelain comes in a wide range of styles and patterns. In the right setting, it is an extremely elegant choice, but it can be expensive. All the same, this material's practicality explains its increasing popularity.
Glass Tile
Glass is most popular as a choice for bathrooms, capable of evoking an atmosphere of luxury or sophistication. It can be costly to install, but once in place, it's easy to clean. These tiles do best in a lighted environment, where they can help brighten a space. They're also a great ecological option and available in a variety of shapes, colours and sizes.
Natural Stone Tile
Natural stone is a classic and beautiful look for kitchens or patios, coming in a number of colours and varieties—like marble, granite or slate. This is generally a difficult installation, so it's important to hire a professional to help. If you're using stone for your kitchen, most types will require some initial care to prevent chipping or staining. But you can't beat the earthy feel of this material.
Engineered Stone Tile
This option combines vinyl flooring with crushed limestone to create a harder, resilient alternative to natural stone for the indoors. It's a versatile material, easy to install in homes with uneven floors, better at retaining heat, and more resistant to stains. It is also hard to tell apart from natural stone, although there is less variety available.