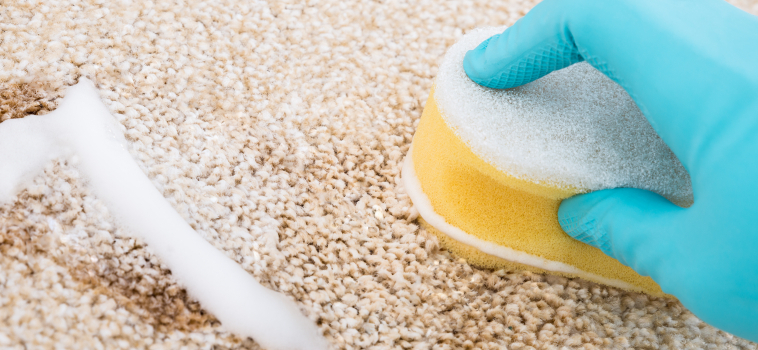 At Bigelow Flooring, we sell a wide range of floor cleaners that we stand behind 100%. When it comes to taking care of your floors, they're the best option. But we know that some people don't like the chemicals that can sometimes be found in cleaners. Here's what you can do if you want a more natural cleaner for your carpets:
Vinegar and hot water: This is best when cleaning a fresh spill. Apply it to the affected area, allow to sit a few minutes, and rinse with water.
Warm water and soap: For a natural carpet shampoo, try mixing a cup of warm water with half a teaspoon of vegetable oil-based soap. Rub the mixture into the carpet with a brush, then rinse thoroughly with clean water.
Baking soda, water, plant-based soap: Need something a little stronger for those tough stains? Mix together these ingredients to create a thick mixture.
Club soda: Using a full strength club soda is great for getting red wine out of carpet.
Steam cleaning: If you need a deeper clean, you can use a steam cleaner without the commercial detergent. Just pour plain water into the steam cleaner's reservoir or mix it with equal parts vinegar. For really tough stains, use a bit more vinegar.
Baking soda: Carpet getting smelly? Baking soda is a naturally odor-absorbing carpet cleaner, and chances are you probably have some in your pantry. Baking soda is great for grease too, just mix 2 cups with 1/2 cup cornmeal or corn starch. Sprinkle and let sit for about half an hour before vacuuming it up.
Whenever you go to clean your carpet, always test your cleaner on an inconspicuous area first. That way, you can tell if it will discolour your carpet.