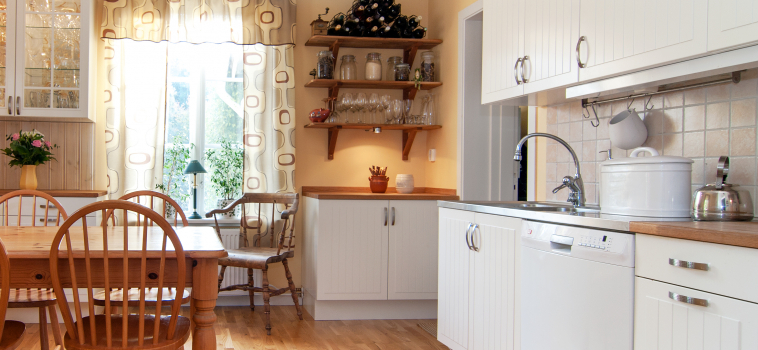 Kitchens are often the heart of the home, so it's important to choose the right kind of flooring. Luckily, there are tons of options!
If you're looking for a classic look with durability, hardwood is the perfect choice. It comes in a wide range of colours, finishes and textures. Hardwood is also a great way to add value to your home. While any kind of tile is also appropriate for the kitchen, hardwood adds a certain charm and homeyness.
Cork is an eco-friendly alternative that can be used in the kitchen. Cork is great, not only because it's kinder to the environment, but because it's attractive and much softer on the feet than other kinds of flooring.
We recommend considering porcelain tile for your kitchen because of its durability. It's also really easy to maintain, which is great if your kitchen sees a lot of action.
If you'd rather stick to more traditional types of flooring for your kitchen, vinyl and luxury vinyl tile (LVT) are still great options. Thick vinyl has a textured surface which makes it ideal for preventing slipping, and it also mimics the appearance of ceramic and real stone. LVT is soft on your feet, warmer than ceramic tiles, and easy to clean. It's also resistant to stains and scratches and ideal for busy lifestyles or families with small children.
Still not sure what kind of floor is right for your kitchen? Come into Bigelow Flooring to chat with one of our consultants. We're always happy to help!