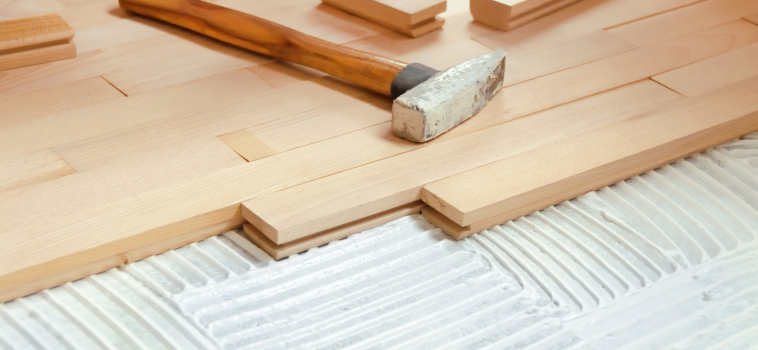 Here at Bigelow Flooring, we want to make sure you're informed about the installation process every step of the way. We want to make the installation as smooth as possible for both our customers and installers. Following these steps will ensure we can provide you with the best experience possible.
– Please make sure there is room in your driveway for our installers
– If you want to take extra precautions for certain areas, hang plastic and cover furniture
– As part of your contract, we can have our installers move furniture out of the installation area; if we do this, please make sure smaller items and breakables are moved out beforehand
– If you didn't get furniture removal as part of your quote, please make sure all furniture is removed from the area before our installers arrive
– If you have any special items or furniture that needs disassembling, please provide our installers with instructions or tools needed
– We recommend removing large pictures and decorative items from the installation area's walls Please let us know if you have any specific expectations or requests for your installation beforehand
– Please make sure closet floors are emptied and that there is nothing under the furniture if it still needs to be moved by our installers
– Please also remove and store away all bedding, sheets, pillows, etc.
– Please unplug computers, televisions and home entertainment wiring in the installation area
– If you live in a condo or apartment, please ask management about accessibility for parking, elevators, service entrances and building procedures; all arrangements need to be made before our installers arrive
– If you plan to remove the old flooring yourself, please be aware that it has to be done to our standards; don't hesitate to contact us for more information, we would be happy to help!
– If flooring is not removed satisfactorily, it will be above and beyond your quote
– Contact us immediately if you see anything you are unsatisfied with during your installation
– Make sure any paint or spackling is dry before installation
– Please make sure our installers have access to electricity and water
– Tell your installer if you have any home security system or other wiring running in the door jams and identify their locations
– Make sure all pets and small children are kept away from the area during installation
– Please make sure our installers have adequate lighting in the installation area
– Temperatures should be between 16 and 26 degrees Celsius and humidity for wood flooring needs to be kept between 35% and 55%
– While we do our best to give you an accurate quote, there may be underlying issues hidden by your current floor that need additional work
– This can only be determined once the old flooring has been removed; anything we find that needs to be fixed will be on top of your original quote
– Our installers will happily remove doors and set them back in place as needed for installation, but if they need to be cut for height then you will be charged an additional cost
– In most homes, rooms are not completely square; home owners need to communicate with the installers about which areas of the home they want their flooring to be parallel to
– While we will make every effort not to scratch or chip the paint on baseboards, because we work so close to the baseboards it does sometimes happen
– There will inevitably be waste at each job, especially if the room is not square or if we are installing a floor on stairs or in a hallway; we will dispose of most waste during the cleanup process, but please let your installer know if you want to keep any scraps
– Vibrations from installation can cause damage through cracks and drywall fasteners popping; we cannot be responsible for damage like this as it is part of the process
– We are not responsible for squeaky subfloors or wall structures
– We will do our best to keep your house clean, but dust and disruption are bound to happen; we recommend you plan to do some cleaning the day following the installation or we can arrange for a cleaner to come to you
Thank you from all of us at Bigelow Flooring!