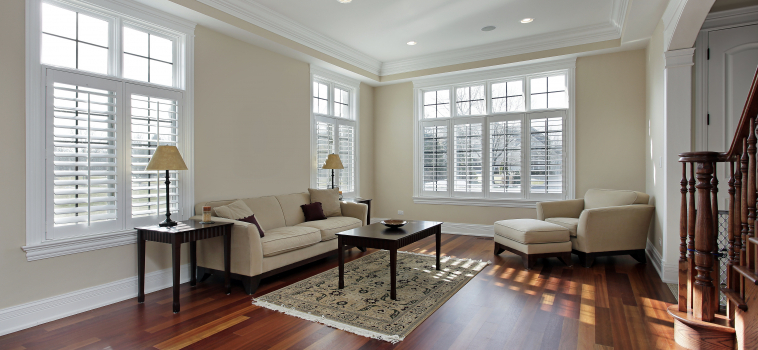 Hardwood is a great choice for people who want a natural wood look for their floors. Because no two boards are the same, it gives a nice, varied look to your home. Here are some tips for keeping your hardwood floor in the best shape!
– Use only floor cleaners recommended by the manufacturer and always use them according to the product info label. Try not to overuse cleaners, as this can lead to buildup and unsightly streaking
– Don't use wet mops or steam cleaners; if water leaks between the boards the finish may lift
– Clean up spills right away and wipe the area with hardwood cleaner.
– To prevent tracking dirt and grit onto your floors, use hardwood friendly area rugs at entrances inside your home and rub off mats outside; dirt and grit can wear down your floor's finish
– Place rugs in high traffic areas and in the kitchen to prevent premature wear and possible damage; also avoid wearing high heeled shoes
– Sweep and vacuum regularly and, to avoid scratches, never clean floors with beater bar vacuums
– Put protectors on the bottom of all furniture and appliances to prevent scratching and gouging. Keep your pets' nails clipped to prevent scratching
– Keep your home's relative humidity between 35 to 55%; low humidity can lead to shrinking and high humidity can lead to expansion, creating gaps between the boards or causing the boards to 'cup'
– Avoid rugs with a rubber backing or other non-venting material. Over time, your hardwood floor will obtain a high patina caused by ultraviolet rays. This change is gradual and you shouldn't worry about it, but letting the entire floor breathe will mean you have a much more uniform colour change
– Make sure heating ducts under your subfloor are well insulated; if not, the heat can dry out your hardwood floor and cause shrinking. This can also happen if the floor is directly above your furnace.
– We recommend the following cleaners for your hardwood floor, all of which can be found at Bigelow Flooring:
– Bona Hardwood Cleaner
– Hagesan Hardwood Cleaner
– Bona Hardwood Refinisher
Please feel free to contact us at 519-821-0256 if you have any questions!