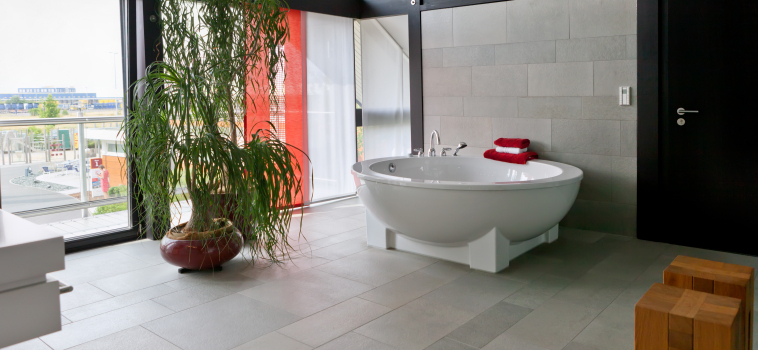 Tile floors come in all shapes, sizes, colours and materials. Whether you choose ceramic or porcelain, natural stone, glass or metal, there are certain things you should be doing to keep each kind of tile looking great!
Ceramic and Porcelain Tile
– Keep floors free of dust and sandy soil to prevent scratching and grout soiling that can develop from everyday use and traffic
– Place mats at entrances to trap abrasive soil; sweep, dust and vacuum regularly to clean up loose soil and dust.
– Use a pH neutral cleaner for natural stone, or a cleaner designed specifically for ceramic and porcelain; never use ordinary household cleaners as this can degrade the sealer that was applied to the grout to protect it from stains.
Natural Stone
– Natural stone needs proper maintenance. Because it's porous, you'll need to use a specific stone cleaner with a neutral pH
– Even light cleaners or mixtures of vinegar and water can etch and damage natural stone
– Natural stone will have a sealer already applied when it is installed but it needs to be re-applied every 12-24 months (depending on usage)
– There are two types of sealers for stone: penetrating and enhancing
– Penetrating sealers don't alter the appearance of the tile
– Enhancing sealers are used to darken, enrich and highlight the natural beauty of the stone
Glass Tile
– For regular cleaning, use a non-abrasive compound for either glass or tile
– Never use products containing ammonia, bleach or abrasives as they can discolour the grouter alter the finish of the tile
 Metal Tile
– Use a liquid non-abrasive household cleaner. Don't use scouring pads or steel wool
– Alternately, you can use a mix of warm water and mild soap detergent or a mix of warm water and vinegar and wipe clean with a soft cloth
Grout
– Haze can form on tile grout between just 12-24 hours after installation and grouting. Use a white cotton cloth to remove it. You can also clean with a small amount of water on the cloth but try to wait at least 24-48 hours after installation
– Clean grout periodically to remove any surface buildup
– Grout sealants do not guarantee against surface buildup or change in colour.
– If it's not sealed upon installation, you should re-apply sealer once a year, depending on the quality of the sealer, how often the area is used and how often it's cleaned
– Grout and tile cleaners can remove grease, soap scum, body oil, mildew, stains, algae and synthetic waxes
– If your grout is too dirty and can't be returned to its natural colour, you can paint it with a grout colourant
– Buy these cleaners at Bigelow Flooring:
– Hagesan super floor shine cleaner (for ceramic tile)
– Hagesan streak free cleaner (for porcelain tile)
– Hagesan Natural – pH cleaner safe for all stone surfaces (for natural stone)
– Also available: multi-use cleaners and strippers for specific natural stone
– Hagesan grout protector and grout sealer application bottles
Please feel free to contact us at 519-821-0256 if you have any questions!